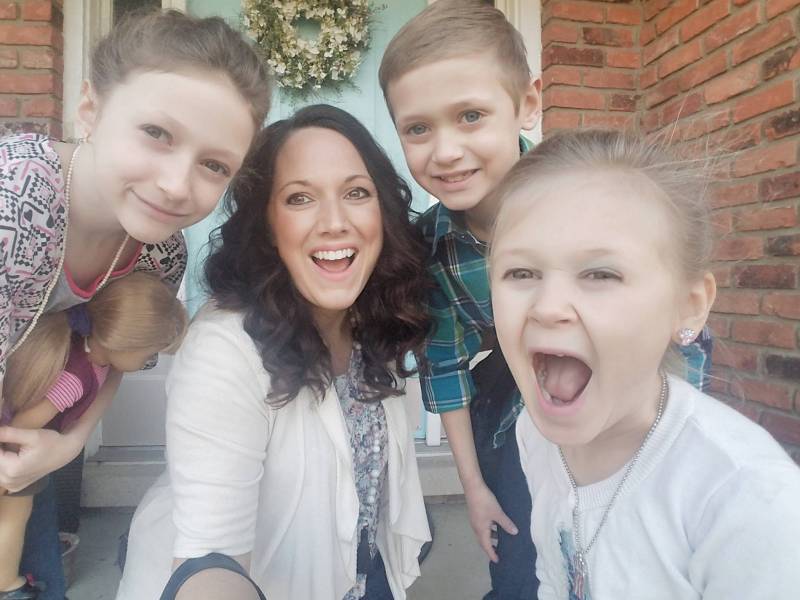 And we know that in all things God works for the good of those who love him,
who have been called according to his purpose. Romans 8:28
About the Blog
All Things with Purpose is a creative lifestyle blog that I started in January 2012 as a place to share DIY tutorials, tips, money saving advice and homeschooling resources.
I share things like EASY MEAL IDEAS for when you're on the run but want to sit down and eat together as a family. I also talk a lot about PLANING A DISNEY WORLD VACATION ON A SMALL BUDGET. I share FREE AMERICAN GIRL DOLL PATTERNS so you can create clothes for your daughter without spending a ton of money. I also love creating PRINTABLES to use with our own kids, and are happy to share them with you! One of my most popular printables is a free LEGO STAR WARS PARTY PACK
Why
All Things with Purpose

?

I believe that there can be so much PURPOSE in the little, ordinary, routine parts of our day, as long as we have priorities in order and we're careful not to let our schedules run us. We were created in the image of a creative, extravagant God, and I find so much joy in creating things that reflect the abundant life we have in Christ.

Can rearranging my furniture or sewing doll clothes really be done with a purpose? Can painting my cabinets or hanging shiplap really be classified as stuff that matters? Since my number one purpose in life is to glorify God and the Bible says "whether you eat or drink or whatever you do, do it all for the glory of God." (1 Corinthians 10:31) then yes, I believe all things can be done with a purpose. These are things that I take delight in and I do them as an expression of the gifts for creativity that God has given me. I also use them as my way of creating an inviting, hospitable home for my family and guests. We host large groups of people in our home on a weekly basis, so I love creating a place they can feel welcomed and relaxed in. I also need to make sure I'm investing in things with eternal value; my kids, my husband, helping those in need, seeking justice for the oppressed. It all comes down to prioritizing. The things I do should honor God and reflect Him, not compete with Him for a place in my heart.
DO STUFF ON PURPOSE
Have you ever reached the end of the day and thought, where did the time go?? Have you ever gone to bed at night with things you wish you had done weighing heavy on your heart? Time, too easily slips away from us, and if we haven't made it a priority to do the stuff we really want to do, the things that really matter wont get done. Things that matter don't happen on accident. Do stuff on purpose.
Do what works for YOUR family
I use this phrase a lot because what works for your family, may stress my family out. What works for us, may totally confuse you guys. What helps me, may discourage you. Stop doing stuff or filling your schedule with things, for the sake of doing things. Pick things that make sense for you and your kids, that are in line with your family's values and individual interests.
About Sarah
I'm an obsessive DIYer, vintage camper owner, adventure seeker, Jesus follower, and "second generation" homeschooling mom of 3. I was born and raised a Michigan girl. My family now lives in a suburb of Detroit and we love it here! My husband is from New Jersey (we met in Mexico on a mission trip), so half of our heart loves Michigan and the other half is for the East coast. We love visiting his family and making quick trips into New York.
Some stuff you should know about me:
I love singing, creating, thrifting and eating.
I hate doing laundry and am not a huge fan of cooking.
I like fast and easy recipes, using healthy, inexpensive ingredients.
I enjoy a good kitchen gadget, I'm partial to Behr paint and diet Dr. Pepper.
I drink black coffee and UNsweetened ice tea.
I'm not a huge chocolate fan.
I have lived all over the state of Michigan and have moved 10 times.
I ran a half marathon.
I am an ambivert.
I was a skater in high school.
I have PCOS
I had 3 c-sections, 2 were emergency, 1 was planned.
I knew 3 painful years of infertility and my heart aches for those that are hurting today.
We were advised by a Doctor to abort our third child because of birth defects they thought were possible… spoiler alert: she is perfect!
I was homeschooled from Kindergarten through high school.
I grew up in church and have suffered a lot of hurt by the church, but remain head over heals in love with the dysfunctional family of God.
Contrary to popular opinion, I hate the process of painting, but LOVE the end results.
I'll try to DIY anything if it will save money!
If I don't know how to do something, I google it, and when all else fails, use spray paint!
I'm horrible at keeping in touch with friends and planing birthday parties.
For a more exhaustive list of things I generally stink at, go here.
Popular Posts
Disney Tips
My Home Tours
DIY
Inspiration // Parenting // Blogging
Party // Seasonal