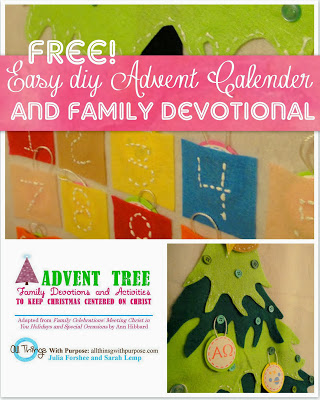 Every Christmas season I remember as a kid included family devotions each night around the dinning room table. They revolved around a felt Christmas tree and a devotional book that is now out of print. The simplicity of each lesson must have hit home for me as a kid, because the Bible verses we memorized are still engraved in my mind. We LOVED taking turns selecting the corresponding ornament each night and placing it on the tree. A friend of mine reminded me of this book, just the other day, when she said my dad had recommended it to her. Sadly, the book is out of print, but can still be purchased used on Amazon. Buy it here: Family Celebrations: Meeting Christ in Your Holidays and Special Occasions
*Update! I just discovered an updated version of Ann Hibbards book which can be found here: Celebrating Advent: Devotions and Activities for the Christmas Season This new book includes 2 full seasons of devotions, as well as added discussion questions and further study of older children and adults. Looks good to me!
The original book includes family activities and devotionals for many holidays throughout the year. I spent some time adapting the material they provide for Christmas devotions, and condensed it into one file that includes everything you'll need to start your own advent tradition.
————————————————————————–
Download my FREE adaptation of the nightly devotional
This download includes a printable version 
of the ornaments that correspond with each night's theme, 
as well as a template for the felt Christmas tree.

————————————————————————–
DIRECTIONS:
This is the no-sew, fast and easy version!!
For my tree, I cut a 40″ x 20″ white felt background. I folded the top over 3″ and hot glued it in place so a stick could be slid through for hanging purposes. I cut 2.5″ x 2.5″ squares in various colors of felt for each ornament's pocket. The ornaments are printable images, mounted on colored foam from the dollar store. I hot glued these in place with a piece of string between the image and the foam. If I had tons of extra time, I would have used embroidery thread to add detail to the tree and to number each pocket. I was lazy and in a hurry, so I used squeezable fabric paint. Worked like a charm! I even hot glued the buttons on, being careful to use only a tiny bit in the center so the ornaments would be able to hang from them. I got started on this project a little late this year, but thought I would finish it and be ahead of the game next year!